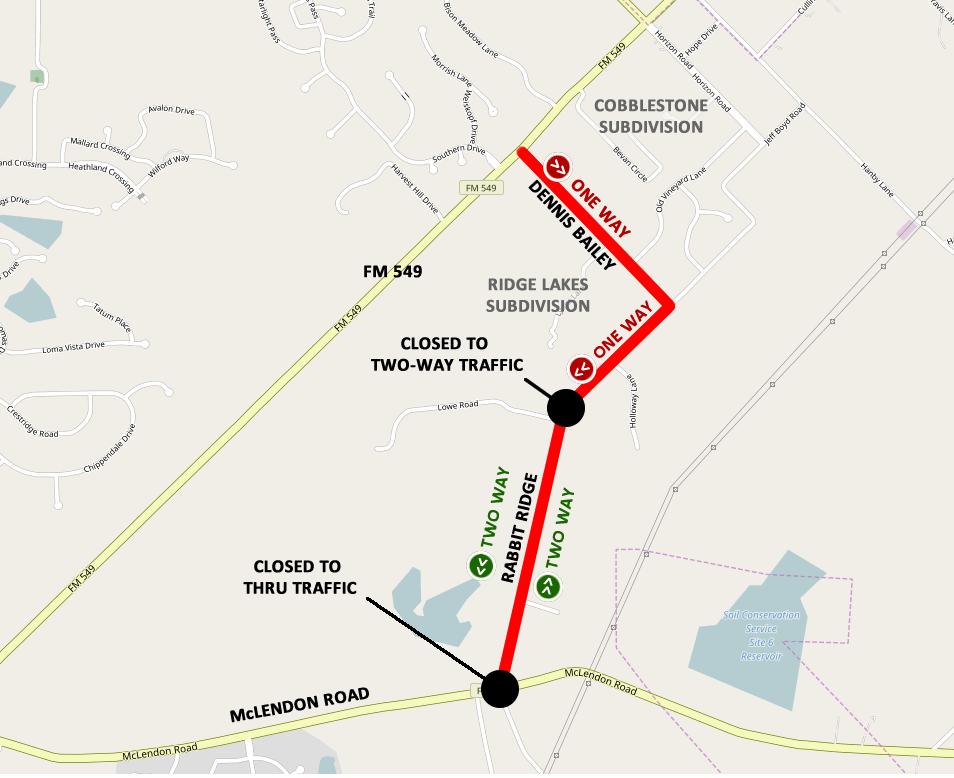 Project:
The City is reconstructing a portion of Dennis Bailey and Rabbit Ridge. The project includes the reconstruction of Dennis Bailey from FM-549 to Rabbit Ridge and the section of Rabbit Ridge adjacent to the Ridge Lakes Addition (location map above).
Start Date:
The project has started.
Completion Time:
Estimated completion time is 7 months (weather permitting).
Construction Process
Dennis Bailey will be a 31-foot wide, 2 lane concrete residential street with curb and gutter.
Rabbit Ridge will be a 24-foot wide, 2 lane concrete roadway with curb and gutter on one side (½ of a future 48-foot, 4-lane undivided roadway).
During construction, Dennis Bailey and Rabbit Ridge, along the Ridge Lakes Subdivision, will be reduced to one-way traffic, from FM-549 towards FM-550. Rabbit Ridge and Dennis Bailey will be signed for "local traffic only". With this revision, it is anticipated that the construction time will be reduced by 2 months.
The last week of November, Rabbit Ridge, from FM-550 towards Dennis Bailey, will be closed to through traffic. It is anticipated to be closed to through traffic for approximately 5 to 6 months.
The contractor for the project is Ed Bell Construction.
If you have any questions regarding the project, please contact Chuck Todd, P.E.  at 972-961-4885, or ctodd@heathtx.com.
The City inspector for the project is Jeff McKenzie at the City of Heath Public Work's Office: 972-961-4899 or at his email: jmckenzie@heathtx.com.
http://www.heathtx.com/wp-content/uploads/2016/11/CIPConstUpdate.png
350
900
City Hall
http://www.heathtx.com/wp-content/uploads/2015/07/CityofHeathTX_Logo1.png
City Hall
2016-11-04 16:10:10
2016-11-04 16:10:10
CIP Construction Update - Dennis Bailey and Rabbit Ridge