Next Free E-Waste Collection Offered April 13
The City of Heath was recognized by the Environmental Co-Op for being a Top Recycler among area cities. Heath residents turned in more than 27,600 pounds of electronic waste at two Co-Op Collection Events hosted in 2012.
Residents can build on this success by participating in the next Free Electronic Waste Collection Event co-sponsored by the City of Heath on Saturday, April 13, 9 a.m. to noon at the RHHS parking lot.
E-waste is any electronic equipment that has reached end-of-life or end-of-usage in your home or office. Items accepted free of charge include: computer hardware, TV's, printers, copiers, scanners, faxes, servers, cell phones, corded phones, stereos, DVD players, small household appliances, ink and toner cartridges, and batteries.
Also, eye glasses will be collected for the Lion's club.
For more information: 972-524-0007, eco@trashbusters.org.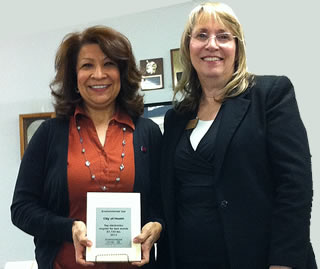 Heath Assistant to the City Manager Norma Duncan accepts the Top Recycler Award on behalf of the City of Heath from Marilyn May, Environmental Co-Op Executive Director.
http://www.heathtx.com/wp-content/uploads/2013/04/Ewaste.jpg
440
1100
City Hall
http://www.heathtx.com/wp-content/uploads/2015/07/CityofHeathTX_Logo1.png
City Hall
2013-04-13 16:13:16
2013-06-04 12:43:43
City of Heath Honored as Top Recycler