Contact City Secretary
Norma Duncan
200 Laurence Drive,
Heath, TX 75032
Ph: (972) 961-4876
Fax: (972) 961-4932
Hours:
8:00 am – 5:00 pm Monday – Friday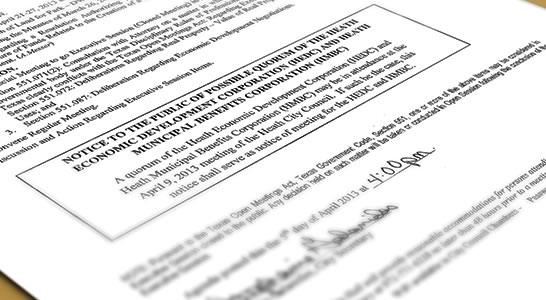 The City Secretary  provides notice of and records the proceedings of the City Council, Planning and Zoning Commission and other boards and commissions. The City Secretary serves as the custodian of the City's records, as elections administrator and provides public information in accordance with requirements established by law and by the City Charter.
View minutes and agendas from City Council and Board meetings.
Comprehensive Plan (CP)
View The City of Heath's Comprehensive Plan for future growth and development.
Code of Ordinances
The City of HeathCode of Ordinances is available at the American Legal Publishing Corporation website accessed via the link below. Once at the site select the desired area from the tree menu on the left.
American Legal Publishing Corporation: City of Heath – Code of Ordinances (external site opens in a new window).
The Code of Ordinances is updated through July 22, 2014.
If you would like more information please contact City Hall or call (972) 771-6228.