Mosquito Abatement Program
Leisa Price
Code Enforcement Officer/Building Inspector
Ph. 972-961-4893
Fax 469-273-4015
Email: lprice@heathtx.com
Hours:
Monday – Friday 9:00 am – 6:00 pm
Saturday 9:00 am – 4:00 pm (6:00 pm)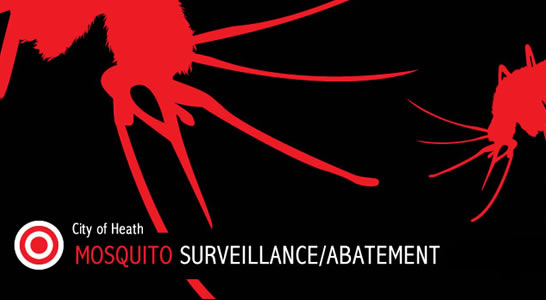 The mosquito breeding season is here, and the City will launch its 2017 Mosquito Management program. Mosquito traps will be placed in multiple locations throughout the community weekly. The trapped mosquitoes will be sent for arboviral testing and species identification weekly. The results will be reported on this page.
Additionally, the City will larvicide to target stagnant water areas such as storm drain inlets, culverts and slowing moving streams. Adult mosquito control will be conducted on an as-needed basis, based upon the surveillance data received.  However, protecting yourself and your loved ones is the best way to prevent the contraction of mosquito transmitted diseases such as the West Nile Virus.
Remember the 4 D's as recommended by the CDC:
Drain – standing water around you home and property.
Deet – Use insect repellent on skin and clothing; Picaridin, IR3535 and Oil of Lemon Eucalyptus are also options.
Dress – wear long sleeves and pants to protect yourself.
Dusk to Dawn – avoid being outdoors during the early morning hours and the evening hours when mosquitoes are most active.
For more information about mosquito bite prevention:
2017 Mosquito Abatement Reports
All reports are PDF's and named by date of collection.