Contact Dept. of Public Safety
Terry Garrett, Director DPS
200 Laurence Drive,
Heath, TX 75032
Police/Fire/Medical emergencies in progress
9-1-1
Non-Emergency reporting and dispatch
972-771-7724
Requesting copies of reports and records
972-961-4900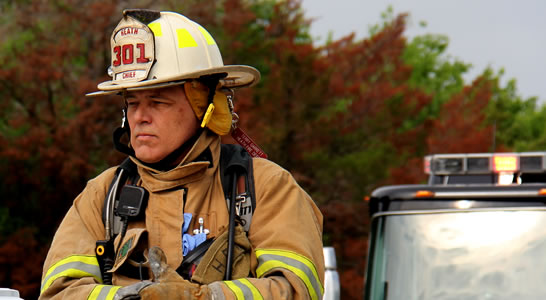 The Department of Public Safety is an integration of police, fire, and first responder emergency medical service. Each member is cross trained to rotate between the roles of Police Officer, Firefighter and EMT during the course of their duty shift.
About Director of Public Safety
The City welcomed Terry Garrett as the Director of Public Safety on January 9, 2006. Director Garrett served with the Rockwall Police Department for twenty-six years and as a member of the Rockwall Volunteer Fire Department for 25 years.
Mission Statement
In alliance with our community, the members of the Heath Department of Public Safety provide public safety and protect the lives and property of the citizens of Heath through emergency response, education and prevention while promoting a high quality of life.
Vision
Effectively respond to the adaptive challenges created by a rapidly growing community that is striving to maintain its low crime rate and high quality of life. Deliver policing that responds to the needs of the community and engages them to share in the responsibility of keeping Heath a great community.  The Heath Department of Public Safety is a professional organization continually seeking opportunities to serve our community through fire prevention, emergency operations, patient care and excellent customer service.
Fundamental Values
Integrity
We believe in honesty, acting ethically, and making wise and informed decisions. We admit mistakes, take corrective measures, and accept responsibility for our actions and our own problems. We work only for the public good and toward the accomplishment of the departmental mission, never seeking personal advantage. By action, we exemplify all of the departmental values.
Community Trust
We strive to maintain the highest standards of fairness, credibility and professionalism when interacting with the citizens we serve. We endeavor to communicate, cooperate and collaborate as a partner with the community to create a better quality of life.
Communications
We believe the best way to enhance our services is to talk with and listen to others, both employees and the citizens we serve. We believe constructive decisions result from seeking the input of employees and hearing the concerns of citizens.
Employee Trust
We are committed to maintaining a mutual respect and trust among all employees. We believe in, foster and support teamwork to accomplish our mission.
Problem Solving
We identify problems and seek long-term solutions. We are committed to the problem-solving process and using data, rather than emotions to drive decisions. We are willing to take risks by challenging the status quo. All employees are part of the shared vision and direction, seeking feedback and participation from all levels of the organization and the community. We strive to improve systems and examine processes.
Leadership
We are committed to making the right decisions, the right way, and for the right reasons. We accomplish this by creating leaders that communicate effectively, have high moral and ethical standards, and have the capability of effective problem solving. As leaders, all employees work to ensure teamwork, accept responsibility through accountability, and strive to provide the optimum service.
Alarm Permit Online Registration or Renewal
Related Documents & Permits
Vacation Watch Request
Request for officer to check on house during vacations (22k).
Burn Permit Application
Application to undertake open burn (not applicable for Platted Sub-Divisions). (35k)
Alarm Permit Application
The residential permit fee is $35.00/year. The commercial permit fee is $50.00/year (35k).
Solicitation Permit
Pursuant to Chapter 110, Solicitation, City of Heath Code of Ordinances permits are required for any business or individual wishing to solicit with the City of Heath (146k)
Identity Theft Packet
Information for victims of identity theft (532k).
2017 SPARTAN ENGINE #1 PLACED INTO SERVICE
2015 PEACE OFFICERS MEMORIAL DAY SERVICE