Contact Planning and Development
Planning and Development
200 Laurence Drive
Heath, TX 75032
Ph: (972) 961-4875
Fax: (972) 961-4935
Hours:
8:00 am – 5:00 pm Monday – Friday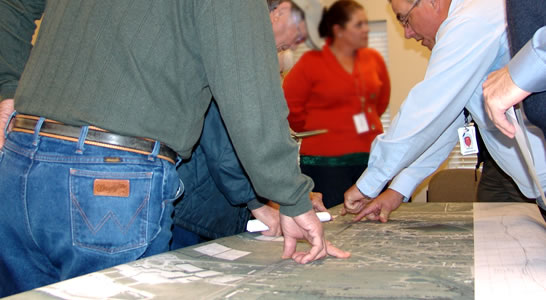 Planning
A constant focus on high standards and careful planning has secured Heath's status as a premier residential community.
The City's planning professionals are dedicated to balancing the priority of protecting the existing environment and infrastructure while analyzing new development to maintain and enhance Heath's exceptional reputation.
Responsibilities include:
Monitoring long-range needs of the City through updates to various plans and ordinances
Aiding the implementation of ordinances and plans
Planning and zoning application processing
Application coordination with the Planning and Zoning Commission
Coordination with other City departments
Coordination with regional planning agencies
Zoning and Subdivision Ordinances
For zoning related documents, please visit our Construction and Zoning Documentation page and look under the Zoning section.
City Maps
City street, water, sewer and other planning maps are available for download from our Map page.
Fire Code
The City of Heath has adopted the 2009 International Fire Code.
Amendments to Fire Code
Additionally, the City of Heath also adopted amendments to the 2009 International Fire Code.
Fire Department Connection (FDC) Signs
All FDC's within the city limits are required to have specific signage affixed to them.
Above Ground Storage Tanks
All permanent and temporary above ground storage tanks within the city limits are regulated. A permit (at no cost) is REQUIRED.
Takeline Regulations
Takeline documentation is available on our Construction and Zoning Documentation page under the Takeline section.
You may also obtain a copy of the above files on CD by contacting City Hall at 972-771-6228 during normal business hours.
Comprehensive Plan (CP)