Contact Utility Services
Jennifer Colombo
Yana McGowan
Utility Services
200 Laurence Drive,
Heath, TX 75032
Ph: (972) 771-6228
Fax: (972) 961-4932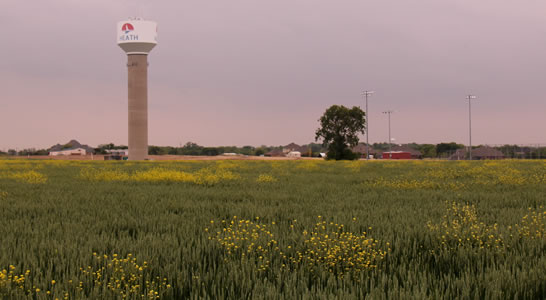 About Customer Service
The Customer Service Division is responsible for accurate and timely billing of the City's utility bills.  In addition to accepting payments, one of our Customer Service Representatives can handle any questions about your bill or requests for service initiation or disconnections.
New Utility Service Deposit Requirements
Effective January 20, 2009, City of Heath ordinances require new customers to pay a utility services deposit when applying for utility services. Existing customers who are reactivating discontinued utility services will also be required to pay a deposit.
A deposit will be required for each service address and may be paid over a two-month period at the customer's request.
When reactivating discontinued service, the City may require an additional deposit to bring the customer's deposit current with the required amount if the initial deposit was applied to offset the delinquent bill.
The deposit may be refunded if the customer's account is determined to be current and in good standing at the end of the initial 12-month period of service. The account shall be considered in good standing if during the 12-month period there were no disconnects, no NSF checks, and no more than one late penalty.
Utility Service Deposit Amounts:
Water, Sewer, Solid Waste Collection $325.00
Water, Solid Waste Collection $250.00
Sewer, Solid Waste Collection $125.00
Solid Waste Collection $50.00
Useful Contact Numbers
City of Heath, TX Consumer Confidence Report:  (972) 771-6228
Safe Drinking Water Hotline:  (800) 426-4791
City of Heath – Water Utilities:  (972) 771-6228
Utility Outage Links
Please use the link below to report streetlight outage (Oncor).
Oncor Streetlight Outage Reporting Form
Oncor Power Outage Information
Main Utility Providers
Atmos Energy Corporation
Oncor Electric Delivery
TXU Energy
We do not list individual service providers on this page, other than the main providers for the area. Below are links to services that list optional utility providers and may be useful for residents or newcomers to shop rates. The City is not responsible or affiliated with any of the third-party links below and only provide this service as a courtesy to our residents.
Shop Texas Electric Rates:
Power To Choose
Save On Energy
Shop Internet Providers by Zip Code:
Shop Cable Providers by Zip Code:
Need Help When Moving?