2017 ANNUAL INDEPENDENCE DAY PARADE AND CELEBRATION IN THE PARK
For a patriotic hometown American experience, join the festivities at the City of Heath's Annual Independence Day Parade on Tuesday, July 4.
Parade entry awards will be presented during a patriotic celebration immediately after the parade in Towne Center Park featuring a live barbershop quartet, recognition of our veterans and active military members, and free popsicles and pie! (Blueberry and cherry, of course.)
Staging for the parade is at 8 a.m., judging and awards are at 8:30 a.m., and the parade begins at 9 a.m. at Amy Parks-Heath Elementary School at 330 Laurence Drive.
As always, the City of Heath invites veterans and active members from any branch of the U.S. Military to ride in the parade on the Veterans Float.
Email Suzanne Brooke at sbrooke@heathtx.com for more information.
New! This year there will be a parade announcer based near City Hall.
If you plan to participate in the parade, please R.S.V.P. at www.heathtx.com so that your entry information can be shared with the crowd. This also facilitates the judging process, and allows Heath DPS officers to prepare for the utmost in safety and timing of intersection closures along the parade route.
RSVP is now closed. You can still participate in the parade without an RSVP, but the announcer will not be able to recognize your entry to the crowd.
PARADE AWARDS
A Best Decorated Award is presented in several categories including: Community/Business Float; HOA/neighborhood Float; Bicycle; Wagon/Stroller; Golf Cart; Off-Road Vehicle; and Antique Car. There are also awards for Best Costume; Most Patriotic Pet; Most Spirited; and the Mayor's Award.
For more information, please call 972-771-6228 or visit www.heathtx.com. City of Heath offices will be closed in observance of the holiday on Tuesday, July 4.
REMINDERS:
Please plan ahead for brief traffic delays. The intersection of Laurence Drive and FM 740/FM 1140 will be closed during the parade from approximately 9:15 a.m. to 9:45 a.m. on July 4. For weather alerts, stay tuned to the City's Facebook page or go to the emergency alert page at www.heathtx.com. Due to so many students and children participating, the City will follow the Rockwall ISD's delay protocol for lightening strikes and severe weather. The parade may delayed up until 10 a.m. only due to traffic concerns.
2017 Parade Route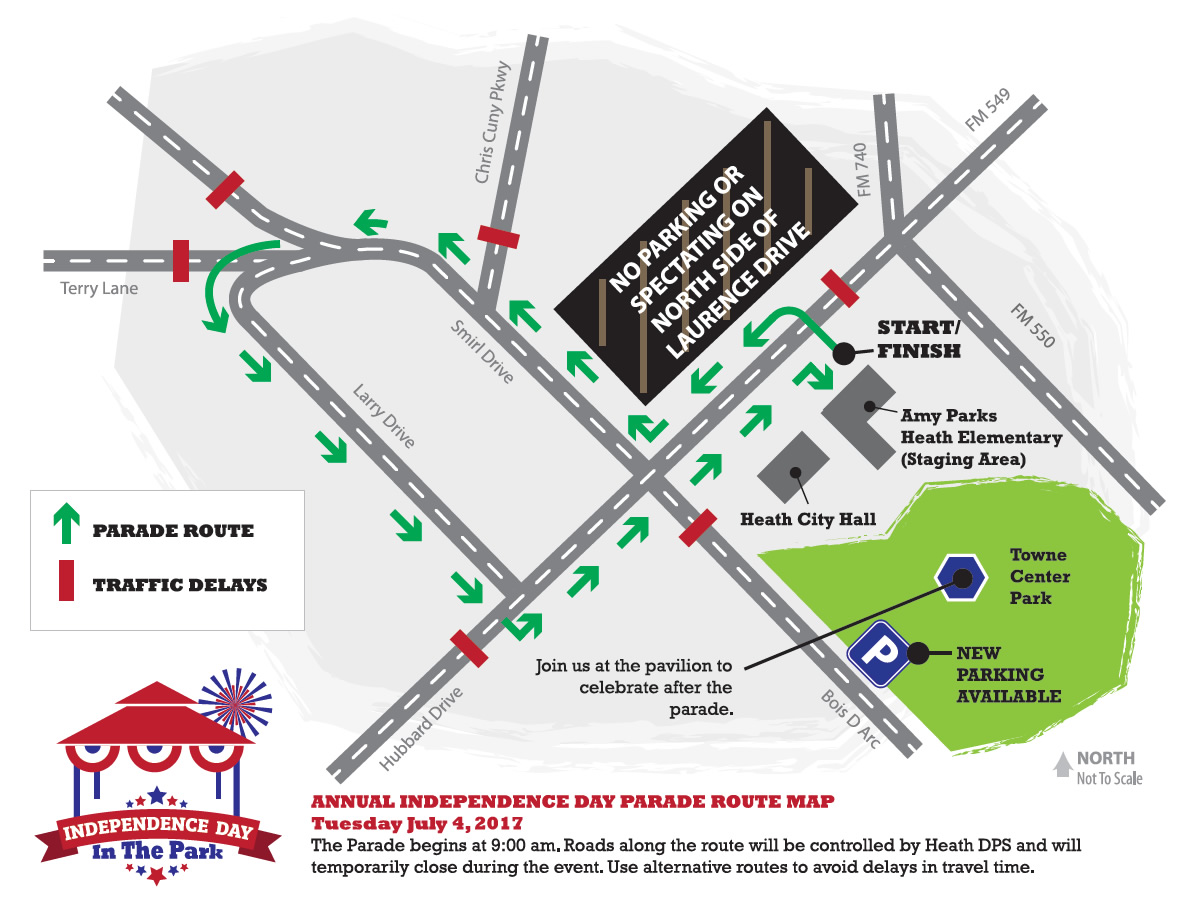 NOTE: New parking area available off Bois D'Arc and NO PARKING OR SPECTATING on the North side of Laurence Drive due to TxDOT construction.
2017 Parade Staging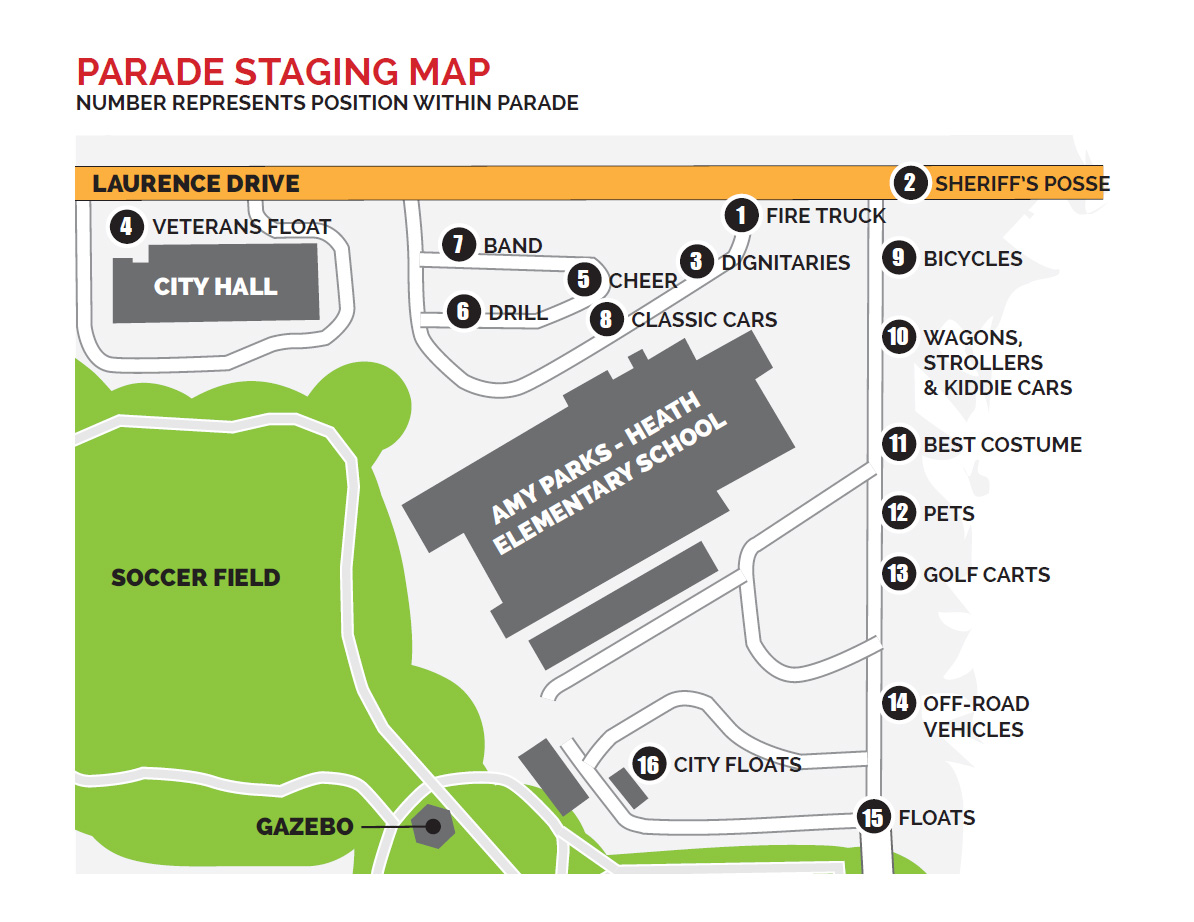 THE CITY OF HEATH SPECIAL EVENTS BOARD WOULD LIKE TO THANK OUR FOLLOWING SPONSORS FOR MAKING THIS EVENT POSSIBLE: