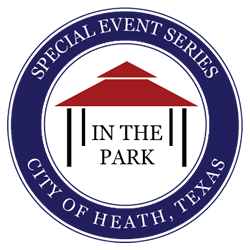 CITY OF HEATH SPECIAL EVENT SERIES
Part of what makes Heath a special place to live and work is our community's warm, friendly, hometown spirit. Nowhere is this more evident than the time when friends and neighbors gather at the Special Events hosted by the City throughout the year in Towne Center Park.
From kicking off the Christmas Season at Holiday in the Park, to celebrating freedom with the Annual Independence Day Parade and Patriotic festivities afterwards, there is a calendar of City activities that we hope you will make a part of your own family's annual activities.
So check back here, watch your City newsletter and follow the City on social media for all the latest details.
2018 EVENT SERIES SPONSORS
The City of Heath Special Events Series is made possible in part by our generous sponsors. Please support them. Click on the logos or names to visit their website and find out more about the products and services these companies offer.
FEATURED SPECIAL EVENTS
Presented by The City of Heath Special Events Board
Held On Easter Saturday Each Year

FUN & FIT IN THE PARK…
Featuring the Heart of Heath 5K & 1-Mile Family Run
SATURDAY, MARCH 31, 2018
---
The Heart of Heath 5k was established in 1994 by a group of dedicated volunteers to help raise funds for the construction of Towne Center Park, located behind Heath City Hall.
Today, Towne Center Park is the "heart" of all City events, and this gathering has been expanded to include fitness FUN for the whole family including a new one-mile family run, life-size checkers, chess and other games, and complimentary healthy treats.
In the case of severe weather, safety procedures including RISD lightening policies will be followed.
*Follow weather updates at www.heathtx.com/emergency; City of Heath Facebook page; City of Heath Twitter.
Event Recap Videos
Held On July 4 Each Year

INDEPENDENCE DAY IN THE PARK…
Featuring the Annual 4th of July Parade & Patriotic Celebration
WEDNESDAY, JULY 4, 2018
For a patriotic hometown American experience, join the festivities at the City of Heath's Annual Independence Day Parade on July 4.
Parade entry awards will be presented during a patriotic celebration immediately after the parade in Towne Center Park featuring a live barbershop quartet and free popsicles.
Staging for the parade is at 8 a.m., judging and awards are at 8:30 a.m., and the parade begins at 9 a.m. at Amy Parks-Heath Elementary School at 330 Laurence Drive. A Best Decorated Award is presented in several categories including: Float; Bicycle; Wagon/Stroller; Golf Cart; Off-Road Vehicle; and Antique Car. There are also awards for Best Costume; Most Patriotic Pet; Most Spirited; and the Mayor's Award.
The City's Special Events Board is encouraging a little friendly competition among neighborhoods with a new award for the BEST NEIGHBORHOOD/HOA FLOAT!
As always, the City of Heath invites veterans from any branch of the U.S. Military to ride in the parade on the Veterans Float.
Active members of the military are also encouraged to ride or march in the parade. For more information, please contact Norma Duncan at 972-771-6228.
Download The 2017 Parade Route (242k PDF) | Download The 2017 Participant Staging Map (263k PDF)
Event Recap Videos
Held On The First Friday In December Each Year (Whenever possible)

HOLIDAY IN THE PARK

FRIDAY, NOVEMBER 30, 2018
This is an annual favorite featuring the musical talents of our local students, the Christmas tree lighting, a winter village with some of Dallas' most popular food trucks, a cozy outdoor dining area warmed by holiday lights, a miniature train ride, and fun activity booths for the kids.
There's always plenty of complimentary hot cocoa, while Mrs. Claus and her elves serve complimentary Christmas cookies, home baked and donated by the National Charity League and Rockwall Women's League.
Of course, the star of the evening is Santa. After his grand arrival, he's eager to visit and take photos with the children in his sleigh, nestled in a picture perfect scene. Bring your camera!
Watch for more details on this website or follow us on Facebook.
Event Recap Videos
25,000 AREA RESIDENTS within a 10 minute drive-time from Towne Center Park
Showcase Your Business By Becoming a Special Event Sponsor
With three levels of sponsorship available, the Special Event Series is a great opportunity for business.